Will i find new job into 2022?
This is a horary question,i want you to help me reading the chart,i'm in critical financial condition,still live with parents at 35 yo,i need to get a stable job with a good salary so to save money and move into a new house who i will live alone independent,last two years weren't good for career,bad jobs and bad workplaces so far.
Can you read over here,any good chances coming or opportunites to me,specific in the second part of this year,after april-may-june periond? Thanx ?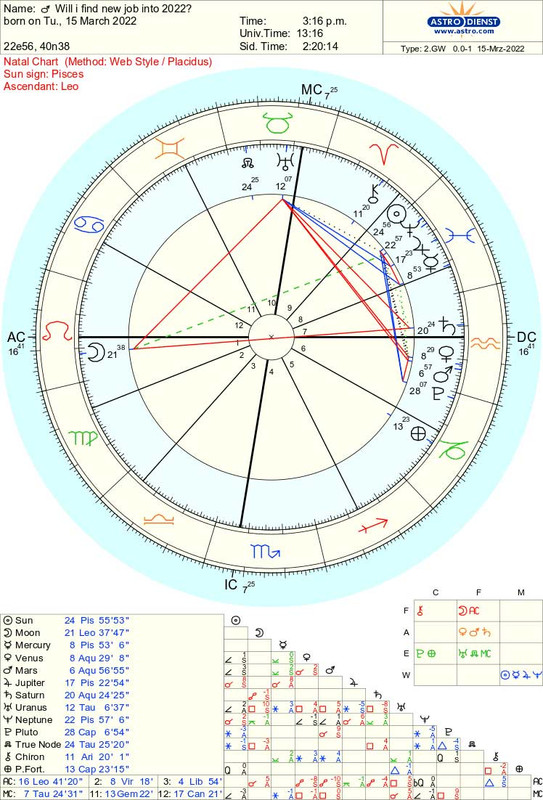 I don't know that anyone here is proficient at horary astrology, but I thought I would take a stab at it. In reading up, what I found was, "If Saturn is in the seventh house, there will be a mistake in judging the chart, usually because of a lack of information from the querent. This shows deception."
So, you might be better off giving us a birth chart with transits to work with, seeing as that's what we tend to look at here, and definitely more information would be needed. Also not asking a yes/no question is advised. What field are you in? What type of job are you looking for? Background information would be very helpful.
I see that you will have Jupiter sextile your midheaven in early-mid May. This would be a good time to apply for a new job. Jupiter will turn retrograde and be sextile your midheaven again in mid-October through early November. It's a great opportunity for you - time to start looking and make it happen!
I would recommend that you start getting an idea of the job you want, and what kind of person they are looking for. Get an account on LinkedIn if you don't have one, and network with people you know to see what is out there, and if they have any advice for landing such a position. Start working on any training or certifications you may need, and get your resume up to date. Then start applying for jobs that are going to be filled starting in May - they may be accepting resumes well before that.
Career forcast please anyone?
There are only a couple people around here who can read a horary chart. 
I don't think it's possible to predict when you might get a job because how you choose to exercise your free will, impacts the outcome.