Solar Return 2022 Reading
Solar Return chart 2022,i'm interesting in career path,studies/degrees finishing,friendships,new house moving,love soulmate founding,mental health situation.Tell me please if you read any positive change,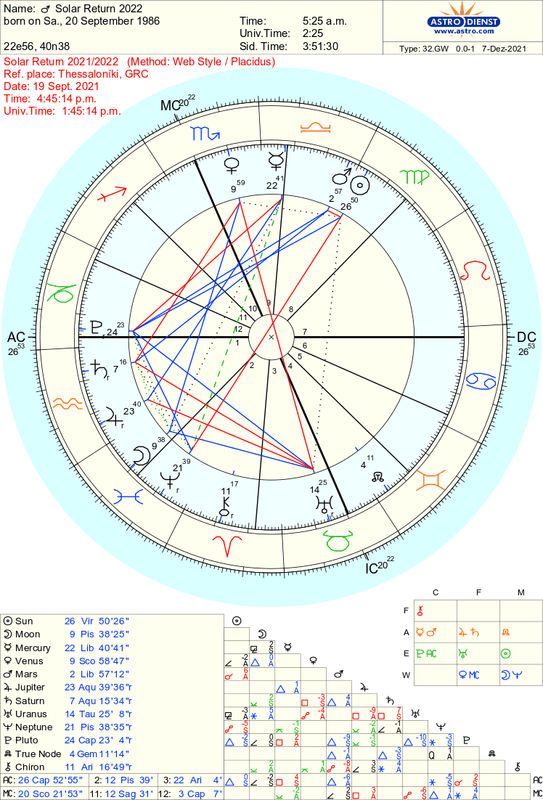 Well @sijune without seeing your natal, I have no idea which house is brought to your AC. There is some v important info there. But reading your SR chart on its own, I would say that you are about to undergo a powerful public transformation. Maybe complications with your public life are brought to your attention, but not immediately obvious to those who meet you. I see a restlessness in you with the Saturn square Uranus in 1st be 4th. Someone could happen along in your birth month that appears to be your "dream" person. I'm thinking it's a sudden obsessive internet attraction sort of thing; considering Venus in 9th opposite Uranus, Moon in Pisces in 2nd, Sun out of sign conjunction to Mars in Libra opposite Neptune. The convos might start to turn romantic around Oct. 
Hope this helps. Keep me posted. 😁
Hello @Estella,you are the second or third person you say to me that 2022 will be a year of personal transformation for me.I have restlessness for mental health,career future,relationship,friendships,marriage,studies finishing,everything actually.
December 13, 2021 12:30 pm
I'm searching for soul healing,for happiness that never found before,for love that never lived so far,if you look at my chart you will see a good soul inside,sensitive,but hopeless and desperate into chronic issues of emptyness,of no joyful life.
If someone have some time to give me a reading,would appreciate that.
I have to inform you sad news,i've lost my job,my contract didn't renewed and now i'm unemployed. 😑 😥 😥 
Did my sr chart give chances for new job in next 3-4 months?