April 15th, 2012 @ 1:13 pm by
Satori
"First you make believe I believe the things that you make believe and I'm bound to let you down. Then it's I who have been deceiving, purposely misleading, and all along you believed in me."
–James Taylor, "B.S.U.R."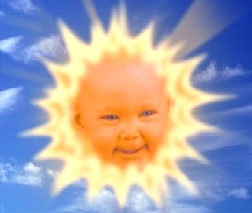 I'm a Pisces Sun, ego ruled by Neptune. Much of the time I'm trying so hard to figure out who I am but it's so hard to pin down, like a wave on the sand. There are so many ways to be and I can relate to all of them, at least a bit, that is when I'm not just blurring out the question entirely. Pisces may have the hardest time doing this, pinning it down, just because there are so many ways to be. As the 12th sign Pisces can relate to possibilities. Perhaps Aries has it easiest in this regard with "I am" as their credo, one way, the first sign. I envy that fiery simplicity at times.
Continue reading The Sun: Your Ego Self
August 29th, 2008 @ 12:01 am by
Elsa
Mercury drops into Libra today and forms a conjunction with Mars. Gee.  Do I know someone with that combination in their chart?
The Moon is in Leo, opposing Neptune which is sure to inflate my ego  and along with my routine natal boasting being hotted up like that I am not sure I can think of anyone but myself today, sorry!
However, this is a best case scenario for P, because Neptune could just as easy erase my ego in which case I am going to be beyond merely confused…
January 31st, 2008 @ 6:53 am by
Elsa
Without ego there would be no entertainment.
November 3rd, 2007 @ 5:49 am by
Elsa
The soldier and I were talking about some scantily clad girl who showed up in one of his classes one day.
"If you were in there you'd have gone nuts," he said.
"If you were staring at her, you're right. But so what? How about I'm with you and some guy comes in and my eyes drift off you and I openly stare at his crotch? You know. I just stare right at it?"
"Well I'd be pissed off. I'd do the same thing I did when you danced with that guy when we were kids. I'd do something, that's for sure."
"Well there you go. I think men are way more fragile than women when it comes to this. If a woman on a date with a man stares at another man's crotch, the man she is with is going to have a hard time recovering from it because they have no conditioning the way women do. Women hold men together all the time."
"May be some truth to that," he said.
Do you agree? Who has the fragile ego? Men or women?
pictured – Venus and Mars by Sidney Harold Meteyard. Oil on canvas
September 4th, 2007 @ 3:45 am by
Elsa
Dear Elsa,
I just ended a two year relationship because I started to have feelings for my best friend. He has liked me for some time now and I couldn't see it and thought we were better as friends. Needless to say when I recently broke up with my boyfriend, my best friend and I decided to try and work things out. He also just ended a relationship, however not as serious as mine.
We tried to go slow but things just fell into place. Everything was perfect until his ex-girlfriend started calling me and my friends, asking what was going on and saying things along the lines that they were still sleeping together. I know this to be untrue because I was with him most of the times she claimed to be. However he was really upset by her actions and even more so because he noticed how upset it made me.
Basically since this happened, our relationship has been strained. I noticed him acting different to me and so I told him. He never saw it. I recently told him again, and now he has been looking at it as a problem. Prior to me saying anything he had no idea. Now he says he wants to be with me and that he is confused about us. He says he feels as though something is missing. He cries when I think about leaving. He tells me there is no doubt he wants to be with me and wishes he knew exactly what was wrong. I do not know what to do. He says there is no one else, it's not about a fear of commitment, he says it has nothing to do with how his ex has been acting… he just doesn't know.
We are going away for a wedding this weekend and he wants to see if some time away will help. If not I think we should take a break to see if he can sort out his feelings. Do you think this can work or should I check out now before I get hurt any further.
New Girlfriend
United States
Dear Girlfriend,
I have to say your last sentence is very telling. You've left your serious boyfriend for your friend. He has left his girlfriend and no doubt these two felt injured.
You friend/new boyfriend is confused and crying (he's probably wracked with guilt) and you want to know if you should chuck them all so you don't get hurt. Excuse me?
Further you blame the ex-girlfriend and her phone calls for all of your problems and I think that's pretty convenient. I suppose she should have no reaction whatsoever to all this, right? Are you aware of your ego? With your Sun in the 12th house, I don't think you are.
But you asked if this "thing" can work and my answer is no. No, I cannot imagine a scenario where you are going to live happily ever after with this man. As long as you blame the lack of perfection in your life on other people and deny all wrongdoing, I think the die is pretty much cast and failed relationships will be the norm.
Good luck.
Have a question? Need advice? Ask here!
Interested in a personal consultation? Click here for more info…
April 29th, 2007 @ 8:23 am by
Elsa
"Without ego, there would be no entertainment."

That right there is one of my favorite things to say. I came up with it some years ago when someone came on my blog to complain about my ego. I couldn't believe it. I was entertaining everyone. What would they have me do? Go sit in the corner and hang my head in shame? It was ludicrous.
Some of us are going to hold our heads up, see. Do you mind? If you do mind, why? What possible problem could you have with someone feeling good about themselves?
Saturn is direct and leaving Leo for Virgo in September. It begs you solidify (Saturn) your ego (Leo). Define (Saturn) your creative self (Leo). In other words, carve out your stage!
You've got four months. Are you going to do the work (Saturn)?

Yes/No
January 16th, 2007 @ 5:04 pm by
Elsa
Now speaking of pheromones, someone suggested it must be wonderful for my ego to be pursued in this way. To have people crawling all over me but in fact, it's soul killing. I absolutely hate it. I want no part of it, and the main thing it does is make me want to cry!
And I have no idea how I could be mistaken as someone who would get off on this sort of thing. By the people who are closest to me, even!
But someone in my innermost circle suggested this the other day (to my horror) and once I got over the shock, I wrote him to clarify and try to get him to understand what is real. That this is the worst possible situation, that is.
I wrote:

I am not cut out for manlessness. Attention like this does not help my ego.
Being a good lover helps my ego. Being a good friend helps my ego. Being caring and giving helps my ego. Being loving and healing helps my ego. Being loyal and trustworthy helps my ego, but this?
This is hell on earth.
~~
I hope he understands.
What helps (increases) your ego or your self esteem?
What kills your soul?


pictured – Apollo Crowning Himself, Antonio Canova, Italian, 1781, Marble
Heads Up from Elsa P!
Sign up below to get my free email newsletter offering a variety of entertaining astrology-themed tips and tricks.
Get A Consultation
Schedule a
consultation by phone
Schedule a
consultation by email
Read what
clients have said about us
Thanks, we look forward to working with you! :-) - Elsa P
Order a Report
Order a
Deluxe Transit Report
Order a
Transit Report
Order a
Solar Return Report
Order a
Relationship Compatibility Report
Order a
Relationship Composite Report
Order
both
relationship reports
, save 10%
Order a
Lunar Return Report
Order a
Natal Chart Report
Order a
Progressed Chart Report
More
© Copyright ElsaElsa.com - 2013